The Visiting Artist Program (VAP) enhances accessibility to arts education by pairing artists (or other types of arts programming providers) with undeserved communities located in the counties of Benton, Carroll, Cass, Clinton, Fountain, Howard, Jasper, Newton, Montgomery, Pulaski, Tippecanoe, Tipton, Warren, and White. Artists provide engaging instruction for students in grades K-12. Artists working in all disciplines of the visual and performing arts are invited to apply.
The goals of the program are:
To increase access to quality arts instruction for youths in grades K-12
To develop relationships between artists, young people, and communities in the region
To elevate the relevancy of art making in its diverse forms
Artists and host sites will work together to present a workshop or series of classes. Up to $2,500 per project is available for artist fees and supplies. The Tippecanoe Arts Federation will act as facilitator to pair artists and host sites, help determine costs, and aid in program outreach.
Project Timeline
Project Period: September 2017– June 2018
Artists Request for Qualifications
Click for RFQ Guidelines and Application
Deadline to Apply: Tuesday, June 13, 2017 (5:00 P.M. EDT)
Host Site Request for Proposals
RFP Guidelines Available: June 22, 2017
Deadline to Apply: August 1, 2017

Eligibility
Artists and arts providers are encouraged to respond to the RFQ. Nonprofit organizations such as schools, community centers, and libraries are eligible to be a host site. Artists and host sites may work together to develop a proposal.
Selection Criteria
For more detailed information please refer to the application guidelines.
Artist applications will be evaluated on their demonstration of:
Experience with public programming
Technical artistic quality
Experience in working with students in grades K-12
Host site applications will be evaluated on:
Feasibility of proposal
Clarity of project goals
Demonstrated community need
Number of individuals served
For More Information
Contact the Tippecanoe Arts Federation's Arts Education and Regional Services Director at (765) 423-2787 or rsd@tippecanoearts.org.
Lake Village Elementary School Mural
 Ladoga Elementary School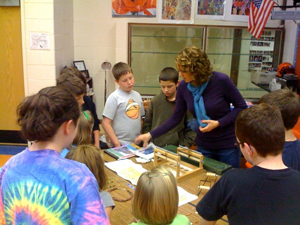 Purdue Galleries Art Cart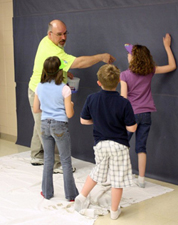 This program is made possible by the McAllister Foundation.