Arts Opportunities

(listed in chronological order of deadline for submissions)
---
Art Museum - Visions of Community Call-Out
---

Henriott Group in the Renaissance Building
offers gallery exhibit space to artists:
Contact Elizabeth Lockrey for more information
765.429.5000 x247 or

---
Sleepy Creek Vineyards (www.sleepycreekvineyards.com) is now looking for groups or individuals to perform instrumental music on Sunday afternoons from 2:00 to 4:00PM (Indiana time). The vineyard is located, 8254 East 1425 North Road, Fairmount, Il 61841, south of Oakwood, Illinois (south of I-74, between Danville and Champaign, Illinois).
Contact Kayla Johnson (701) 799-7090 or kaylaejohn@gmail.com
---
Artist Studios Available - Ferry Street Studios

Building and Business for sale
---

Artist Studios Available - The Bindery
---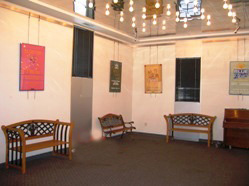 Civic Accepting Art Exhibits for Monon Depot Gallery:

Civic Theatre is accepting hanging exhibits for the Lobby of the historic Monon Depot. This lobby space is used for a variety of activities in addition to visual art exhibition space and therefore cannot accommodate 3-D art works.

The purpose of the Monon Depot Gallery is to provide space for works of art of community interest that are appropriate for the diverse range of Civic's patrons and participants. Hopefully, the art will enhance the theatre's entertainment environment. The quality of the work, appropriateness of the exhibit for the multi-use space, and appeal to a broad community audience will be considered before an exhibit is accepted for display.

For more information about the guidelines and possibilities of mounting an exhibit, call 765-423-7529.
---