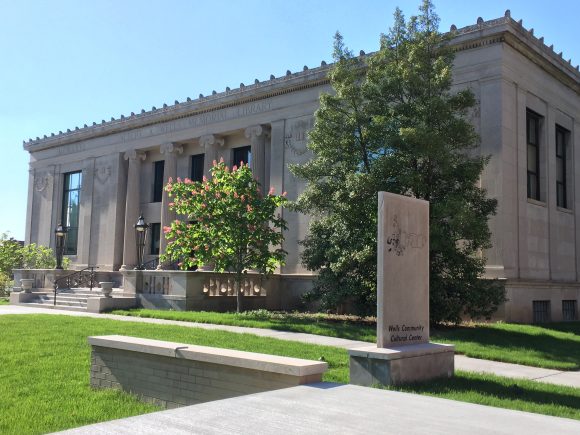 The Historic Wells Community Cultural Center
638 North Street
Lafayette, Indiana
The Tippecanoe Arts Federation is housed within the beautiful Historic Wells Community Cultural Center. The Wells Community Cultural Center is of Neo Classical American Greek Revival Architecture style. This 80-year-old gem of Historic Downtown Lafayette's Arts and Shopping District offers many unique opportunities for your business, personal meeting space or special event. Conveniently located downtown and easily accessible from all directions of the community the facility offers its own parking lot, a rare commodity of the downtown.
Members have access to meeting rooms and a kitchen on the first floor as well as gallery space and performance areas in the main lobby.
The Grand Reception Hall located on the second floor is beautiful with high ceilings, a stage, mezzanine and giant chandelier providing a great space for public speaking events, weddings and socials.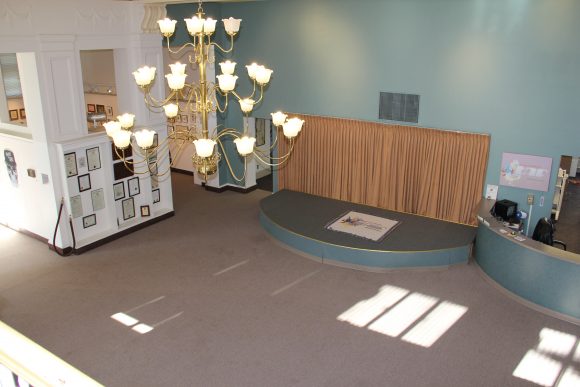 Wells Grand Reception Hall w/Stage
Individual "Members/Friends of TAF" may also rent space at TAF for private events, meetings, or gatherings when a pleasant artistic environment is desired. The Indiana Fiddler's Gathering presents musical performances by award winning international musicians in the Grand Reception Hall!
"My band members and I loved the acoustics of the Wells Community Cultural Center so much that we wanted to keep playing during our breaks! It's really a great vibe and fantastic place to hear acoustic music."  — John Jorgenson  (Grammy-winning artist)
Fiddler's East Meeting Room

The Indiana Fiddler's Room has been equipped with acoustic modifications, lighting, and a small presentation stage. The stage is perfect for more intimate performances or elevated seating for panel discussion/presentations. The room seats up to 20 with tables and 45 without tables

North Meeting Room

The largest 1st floor area, the North Meeting Room, is ideal for larger functions (seats up to 35 with tables and 50 without).

West Meeting Room

Adorning an original historic fireplace, the West Meeting Room conveys a relaxed, warm atmosphere. (Seats up to 25 with tables, 45 without)
As stewards of the Wells Community Cultural Center, Tippecanoe Arts Federation has conducted a formal Wells Use Rehabilitation & Restoration study and has completed a formal report in 2007.
Facility – Galleries
Tippecanoe Arts Federation has three galleries where local and regional artists and organizations exhibit artwork of all media. Exhibitors from within TAF's Region 4 counties display their artwork throughout the year, showing a broad range of talents.
Gallery Hours
9:00am to 5:00pm
Monday through Friday
| | | |
| --- | --- | --- |
| East Gallery | West Gallery | Northwest Gallery |
In order for individual artists or arts organizations to exhibit work in the galleries there is a formal Application Process
Gallery Wall Dimensions
Facility Pricing
All Users of the Wells Community Cultural Center must be either a Member Organization, an Individual Artist Member, or an Individual Friend or Business Friend of TAF.
Arts/Cultural Member Organizations receive 12 free downstairs meeting room uses with annual membership.
Community Partner Member Organizations receive 6 free downstairs meeting room uses with annual membership.